Our Story

We're glad you're here!!!
Our journey of Sheer Dedication and Hard work
It all began when Mr Shanker Lal Panwar and Mr Radheshyam Tak established Om Trading Company in 1981 with a goal to introduce world-class galvanized coils and corrugated sheets to the market. Today we can proudly boast that over 4 decades of our journey has transformed our humble business into an organization that has PAN India operations with a processing capability of 350/m.t. per day.
First Idea to our Dream
During the initial times when our two founders were looking to establish bases strongly, they have identified that the per capita consumption of steel in India is very high and there is always a demand for it. We started processing steel coils in the form of De-coiling; cut-to-length and slitting.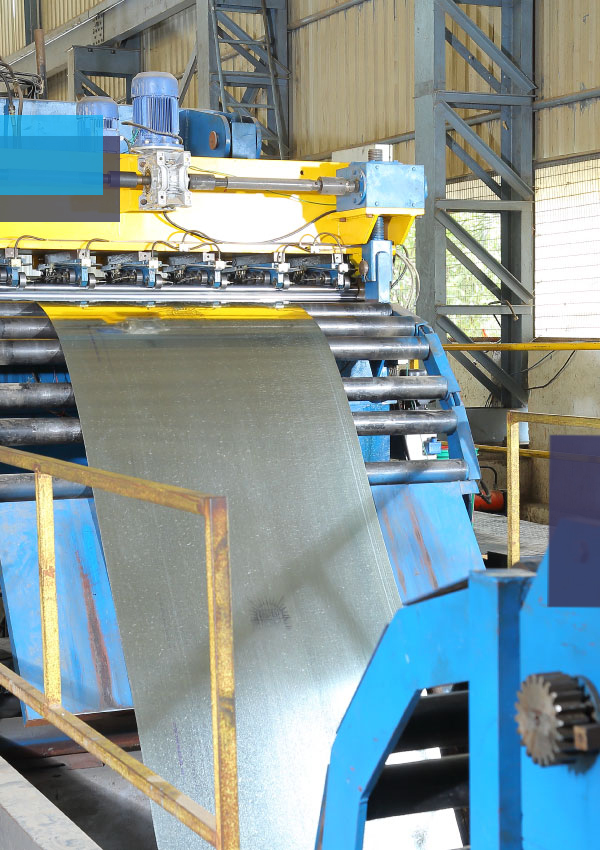 Our Consistent Rise
We have established our first service center in the year 1995 and a small unit in the name of Swamy industries that comprises a cut-to-length machine and a coil storage facility. We have catered to major steel giants like erstwhile Ispat Industries (now taken over by JSW Steel), National steel, Agro industries, Shree pre-coated steels (Now taken over by Essar steel), Essar Steel India and Essar Steel Hypermart(Now taken over by ArcelorMittal Nippon Steel Ltd(AMNS)).
Our fame grew in numbers with these happy and consistent customers and made us the dealers of major steel producers in India. We are well known among our happy clients' fraternity for offering tailor-made services of cut-to-length sheets, slitting, and de-coiling of the cold roll (CR), galvanized steel coils (GP).
In the present scenario, Om Trading is the pioneer organization in trading coil and steel products. And Swamy Industries is successfully providing cut-to-length and other services apart from being a registered warehouse for Om Trading Company and other local steel traders in Secunderabad and Hyderabad.
A new Jewel to our Crown
To our consistently performing products in Steel Coil Processing, We have added one more product called Colour Coated Coils/ Sheets. This product has turned out to be an instant success and we started supplying it along with roofing sheets within India.
Our innovation has opened up opportunities in the year 2003 with the boom in the pre-engineering building where colour-coated coils and roofing sheets were much in demand. Our products have extended to all districts of Telangana & Andhra Pradesh and later in 2005, our manufacturing unit named International Steel Industries was founded under the able leadership of founders.
Vision
To provide excellent steel coil processing and distribution solutions to our customers.
Mission
To provide PAN India steel coil solutions by 2025.
Values
Customer-centric
Passionate
Constant Innovation
Competitive prices
Ethical practice

We Stand Apart

METALOGIC stands today as the key player in manufacturing, trading & steel coil processing services in India. We are unique in the sense that we could offer a whole pack of products & services to the customers. We are the leading service providers for solutions in steel coils, sheets, slitting coils, roll forming, bending, flattening and many more among them.

The company started operations with a small manufacturing facility primarily into prepainted galvanized roofing sheets and its accessories and is at present successfully manufacturing a bouquet of products that includes C&Z Purlins, floor decking sheets and others. We began with a strong presence across Telangana, Andhra Pradesh and now reached the stage where we are currently handling Pan India operations. We are the prime distributors and cater to major iron and steel giants in the country.

Core Philosophy
Our initial goal is to provide secondary membrane solutions for all pre-engineering buildings under one roof. Today we are noted in the industry as one of the best manufacturers of quality roofing sheet solutions and always strive to keep our value high and our prime focus is on maintaining our prolific quality throughout all the times.
We believe that a happy customer brings in multiple along with him. Our clients are our own advertisers. It is our sole responsibility to make them feel content through our outstanding services. Focused on creating customer delight, we are equipped to provide all range of products at any time and there is absolutely no minimum order quantity.
Our Unique Solutions
Our mission is to keep pushing ourselves to the newer heights in offering our custom made services. Looking through our marketplace, you'll find our clients trusting our products and they are never shy of showcasing our customizable products, and creating their own end products through us.
We Embrace Technology
We can make your dream turn into reality through our cutting edge world technology. Our innovative minds are taking on the toughest technical challenges to make customizing anything a possibility. We are passionate about making you create a mark to your clients through our customizable services. Metalogic has grown leaps and bounds by embracing changing technological advancements.
Our Services
We are essentially a one-stop steel coil warehousing facility for major steel suppliers and are also involved in cutting to length sheet, de-coiling, slitting of steel coils, galvanized steel coils/sheets.
We are the trusted providers to major industries in the fields of cement, construction, automobile body building, air-condition ducting, automobile engineering, small scale industries, pre-engineering building industries to name a few.
Some of our major clientele includes industry giants like Essar Steels India(Now taken over by Arcelor Mittal Nippon Steel (AMNS)), Steel Authority of India, Uttam Value Steels, Sipta Coated Steels, Asian Steels, Colour Shine Steel Industries, Latim Sourcing Industries among others. We are the certified authorized dealer for Essar Steel India, Uttam Value Steel and Sipta coated steel.
Leadership
We are well aware that you dream big and the helping hand of talented visionaries will take you to long distances. We began humbly with a small company and now had our footprints all over the country and abroad. It is no doubt that our leadership extended our reach and now we have multiple Manufacturing facilities and Engineering Innovations which created a brand value to our products.